Artistic Swimming
Last Updated On: November 5, 2020
Aquatic sports are a significant part of the Olympics and other world competitions. There are many types of swimming sports, including artistic swimming. Artistic swimming tests strength, agility, and endurance. Artistic swimming was part of aquatic sports before sports organization decided to give it a category. The sport is a bit new and still growing in terms of rules and techniques. This article will explore what artistic swimming is, its history, management, equipment, and competitors' expectations.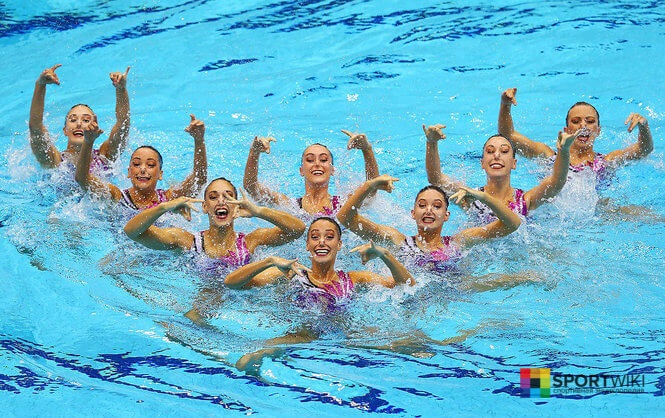 What is Artistic Swimming?

Artistic Swimming or Synchronised Swimming – This Olympic sport involves performing a combination of gymnastics, dance, and swimming on the water. It is also known as synchronized swimming in most countries. Music is part of the performance, and contestants can enter the competitions as a solo, free team, duet, free combination, trio, or mixed duet. Artistic swimming has been a part of the Olympic games since 1984.
History of Synchronised Swimming

The current governing body for international synchronised swimming is FINA. It is responsible for organizing multiple international championships and World Series competitions. Artistic swimming has humble beginnings, and the growth rate has been a high one. There is a rich history of artistic swimming, and it dates back to German in 1891 when it was known as water ballet. Since then, water ballet was developed as a sport in Germany and Canada. Sometimes, water ballet was part of performances in theatre halls where large water tanks acted in place of swimming pools.
As the sport grew, individuals began getting aggressive with water ballet performances like in 1907 when Annette Kellerman performed the first underwater ballet in a glass water tank. Another individual who contributed to synchronised swimming was Katherine Curtis, who founded a water ballet club in Chicago. Katherine kept on experimenting with various stunts and tricks to perfect the art.
In 1924, the first water ballet competition for individuals took place in Montreal. In 1933, Katherine was an organizer of an event that introduced water ballet as synchronized swimming. The event was known as 'The Kay Curtis Modern Mermaids,' and it still took place in 1934. After that, many people adopted calling water ballet synchronized swimming. Synchronized swimming was recognized as a sport by the Amateur Athletic Union (AAU) in 1941. Katherine Curtis became the director of the Red Cross, and she still kept on improving synchronized swimming. She was recognized as the pioneers of synchronized swimming by the Helms Hall of Fame in 1959 and the International Swimming Hall of Fame in 1979.
In 1949, the first national team championships for synchronized swimming were held in Chicago. A few movies like the Bathing Beauty and Million Dollar Mermaid played a significant role in creating national awareness of the sport. In the beginning, synchronized swimming included male contestants until the 20th century when it became a women-only sport in the late 1940s and early 1950s. Men were allowed to compete in USA competitions in 1978, with each gender performing separately.
The rules about men competing in synchronized swimming vary from one country to another. Overall, male competitors are not part of the top competitions for artistic swimming. Only women can proceed to the World Aquatics Championships and the Olympic Games. In 2015, FINA added mixed duets in artistic swimming, which allowed a man and woman to compete in the World Championships. The European Aquatic Championships gave men the green light to participate in the competitions for the first time in 2016. FINA did a proposal in 2020 requesting permission for men to join in a mixed diet for the 2020 Olympics.
After a long time calling the sport synchronized swimming, FINA granted a request to change the name to artistic swimming. The governing body thought that artistic swimming defined the sport accurately and could increase the fan base of the sport.
Artistic Swimming Rules

Several rules define the sport and ensure that routines run smoothly during competitions. The laws govern the sports and ensure that contestants have a fair chance of winning bases on their mastery of positions and creative patterns. The rules are part of FINA and AAU requirements that contestants must follow during competitions.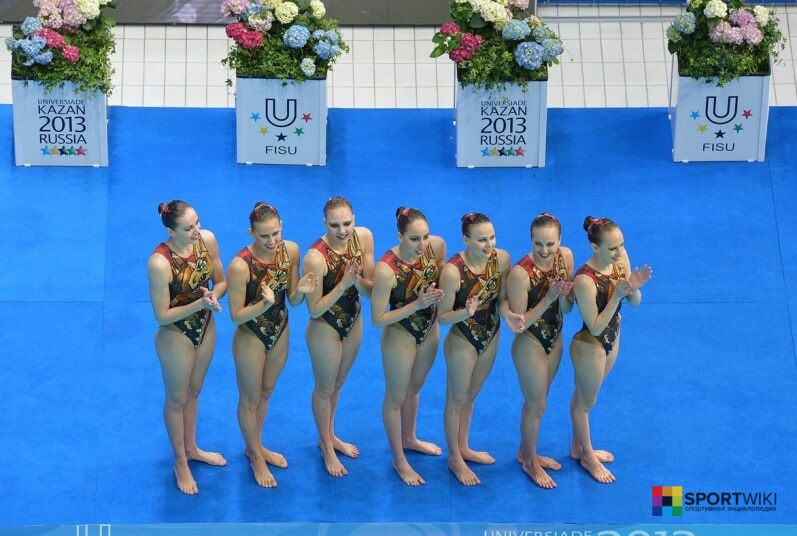 Swimming Gear: Standard swimming gear for the competitions is a swimsuit and a cap. Swimmers can opt to wear a nose clip and ear-plugs to prevent water from entering the nose or ears when submerged. Rules demand that swimmers who don't wear a cap must have their hair in a burn. Swimmers use gelatin to keep the hair in place during competitions. Some swimmers opt to wear decorative headpieces on the bun during games. Most swimmers wear swimsuits that have their team's colors and matching swimming caps. Goggles are not permitted during artistic swimming competitions.
Age Groups: There are age restrictions for artistic swimming competitions in the USA and Canada. The rules of age groups tend to change depending on the country. Age groups categories mostly include ten years and under, 12 years and under, 13-15, 16-18, 18 years and above. Scoring systems in the age groups may vary to accommodate the age limitations of the contestants. Contestants 18 years and above (seniors) need to perform complex routines to earn a high score from judges. Kids competitions involve simple stunts, and judges mostly expect the young ones to stay afloat and move to new positions gracefully.
Routines: All routines demand that the swimmer's movements be in harmony with the music being played, which means that teams need to synchronize their activities, including stunts, highlights, figures, and arm sections. Swimmers cannot stand on the floor of the pool when doing a routine. They need to stay afloat for the duration of the performance. Swimmers have the option of doing a technical or free performance. Technical performances have compulsory activities that a contestant must perform to earn scores. Free routines allow the swimmer to create routines that they like and impress the judges.
Length of Routines: The average time of an artistic swimming routine is 2-4 minutes. Technical solo routines get a shorter duration of two minutes, while team routines can last up to four minutes. A routine's duration will depend on the contestant's age, skill, and the number of people in performance. Most routines have a stipulated amount of time that helps contestants create a routine that meets the expected length of a routine.
Scoring: All routines have a maximum score of 100 points from the judges. The swimmer must show excellent execution of stunts and highlights. They should dress in appropriate attire and follow the rules of the competitions to avoid penalties. World Series Championships and Olympics require groups to have eight contestants, and having fewer than that can result in penalties. Touching the bottom of a pool when doing a routine can also result in penalties.
Underwater Speakers: Underwater speakers come in handy to help contesters keep up with the music's rhythm when doing artistic swimming routines. Most swimmers use underwater speakers during training to ensure that they can feel the music when they are submerged.
Makeup: Makeup is allowed during competitions, but it should resemble a person's natural look. Theatrical makeup isn't permitted in artistic swimming competitions. A country like Canada strictly requires the swimmer to apply makeup sparingly during matches. Most swimmers have to maintain a healthy lifestyle to gain flawless skin and a glowing complexion.
Swimming Pool Requirements

There are individual specifications that a pool area should have for regular competitions and international competitions. The requirements ensure that swimmers have adequate space for routines, judges have their place, and a sound system for effective communication. A swimming pool must be 20m wide by 30m long by 2.5m deep for Olympics and World championships. One end of the pool must be at least 8m deep, and the water must be clear so that you can see the bottom of the pool.
Routines need to be done within an area of 12m by12m and a depth of 3m. Figure competitions need four-figure panels each 10m long by 3m wide by 3m deep. Contestants use the panels for figure routines and stay within the panels for the whole routine. The temperature of the water should be 27 degrees Celsius.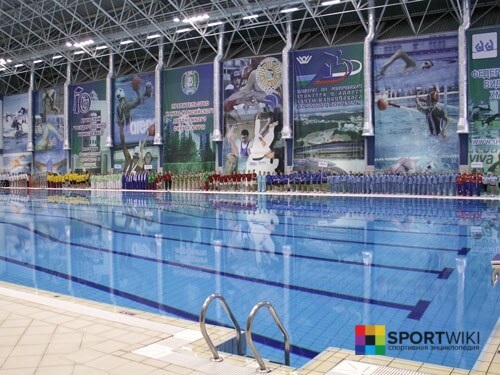 Swimming pools for competitions should have scoreboards displaying 32 digits, and a FINA approved records tracking system. Judges should have a score recorder and flashcards in case of system failure. There needs to be a technician for technical equipment and a handyman to handle repairs around the swimming pool. A high-quality sound system is necessary to ensure effective communication throughout the event. Overall, most facilities need to meet FINA requirements before national artistic competitions are help in a location.
Refereeing

Referees are required in artistic swimming competitions to ensure events run smoothly. Referees attend the events to ensure that all FINA rules are followed during championships and competitions. All artistic swimming referees participate in compulsory training before qualifying to be a referee. Qualifications are renewable every four years by attending to a judge or referee training to ensure that a referee is up to speed with the latest FINA rules. At times, a referee will have to make judgment calls during routines to indicate penalties for breaking the rules. Overall, referees indicate the beginning of a routine and the end. They also consult with judges to decide on unusual matters that occur during competitions.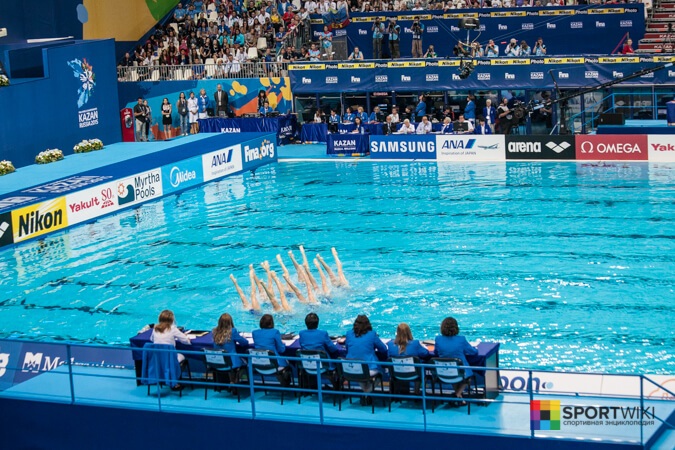 FAQ
❓ When was artistic swimming invented?
The first synchronised swimming competitions took place in Berlin in 1891.
❓ When did synchronized swimming become an Olympic sport?
❓ How deep is the water in synchronized swimming?
Similar Sports